All-in-one Inverter Built in 3500W 48V Pure Sine Wave Power Inverter & 80A MPPT Controller for Off Grid System
Description
ECO-WORTHY All-in-one Inverter Built in 3500W 48V Pure Sine Wave Power Inverter & 80A MPPT Controller is a new hybrid solar energy storage inverter control all-in-one machine integrating solar energy storage and commercial power charging energy storage and AC sine wave output. It adopts DSP control and has advanced response algorithms and high reliability through advanced control algorithms. And high industrialization standards. There are only four charging modes: solar power, city power priority, solar power priority, city power and solar power. Three output modes: Solar power priority mode, Grid power priority mode, Inverter priority mode, are available to meet different application needs.
Key Features
Pure Sine Wave Inverter
Much better than Modified Sine Wave Inverter, protect appliance life with no electromagnetic pollution.
80A MPPT Controller
4300W DC Input restrictions, has 99.9% high efficiency, 30% higher than the PWM charge controller.
LCD Screen
Easily check voltage, current, system status, remaining battery, etc. Four buttons can customize your system parameters.
For Six Types of Battery
Suitable for six types of battery: SLD; GEL; LF6; LF4; FLD; NCM/NCA, protect the battery bank usage life.
Four Output Modes
Choose solar charging mode, electricity utility priority mode, or hybrid charging mode as you want.
Package Includes
All-in-one Inverter(3500W 48V Inverter+80A MPPT Controller)*1
1.5M 16mm² Battery Extension Cable*1
User Manual*1

AC Input Mode
Rated Input Voltage: 110/120VAC
Input Voltage Range: 90V-140VAC
Frequency: 50Hz/60Hz
Overload/Short Circuit Protection: Circuit breaker
Efficiency: >95%
AC Reverse Protection: Available
Max Bypass Overload Current: 40A
Invert Mode
Output Voltage Waveform: Pure Sine Wave
Rated Output Power: 3500W
Rated Output Voltage: 120VAC
Peak Power: 7000W
Bypass Breaker: 40A
Rated Battery Input Voltage: 48V
Min Starting Voltage: 44V
Power Saving Mode: Load ≤25W
AC Charging
Battery Type: Lead acid or lithium battery
Max Charge Current: 30A
Charge Voltage Range: 40-60VDC
Overcharge Protection: Alarm and turn off charging after 1 minute
PV Charging
Max Output Power:4200W
PV Charging Current Range:0-80A(can be set)
Max PV Open Circuit Voltage: 145VDC
PV Operating Voltage Range: 60-145VDC
MPPT Voltage Range: 60-115VDC
Battery Voltage Range: 40-60VDC
Max Output Power: 4200W
Charging Short Circuit Protection: Blown fuse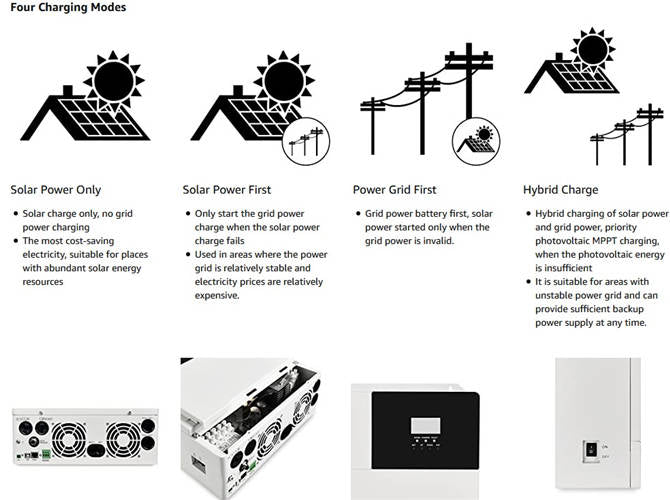 SHIPPING
We can ship our products to almost every country and can offer a free shipping service for most of them.
You will receive a confirmation e-mail after placing an order and another e-mail after your order has been shipped. The second one will contain the tracking information and some instructions on how to track your parcel.
ORDER PROCESSING
Procession time can take between 1-3 working days time.
The time it takes to prepare your item(s) to ship from our warehouse. This includes preparing your items, performing quality checks, and packing for shipment.
SHIPPING TIME
All items sold at ECO-WORTHY are guaranteed to be delivered in 60 days. And all orders shipped from the US, EU, UK, FR, ES, CA and AU warehouse are guaranteed to be delivered within 30 days.
If you have not received your item(s) beyond this time, you are eligible for a full refund after we have conducted a postal investigation.
| | | | |
| --- | --- | --- | --- |
| Shipping from | Shipping to | Shipping time | Tracking information |
| US warehourse | USA |  3-5 working days | tracked |
| CA warehourse | CA |  3-5 working days | tracked |
| EU warehourse | EU |  3-7 working days | tracked |
| UK warehourse | UK |  3-7 working days | tracked |
| AU warehourse | AU |  3-7 working days | tracked |

Freight: Larger Panels Kits must be shipped by freight, the shipping time is 5-14 working days.
Note: The shipping times mentioned above refer to the estimated times of business days that the shipment will take after an order has been shipped. Business days do not include Saturday/Sunday and any public holidays. These estimates are based on normal circumstances and are not a guarantee of delivery times. We are not responsible for the failures or delays in delivery resulting from any force majeure event, such as natural disaster, bad weather, war, and any other event beyond our direct control, such as public holidays and customs issues.
Full refunds are not available under the following circumstances:
1.Delays caused by the buyer providing incorrect or incomplete delivery information;
2 Delays in delivery caused by any force majeure incidents, such as natural disasters, bad weather, and war;
3.Any un-insured order that is lost or stolen;
4.Delays in delivery caused by any other beyond ECO-WORHTY's control, such as public holidays and Customs issues.

Due to the unpredictable effects of COVID-19 on logistics and transportation, we are extending the guaranteed shipping time of orders placed after 2020.3.15 by 15-30 additional days. The extension will vary based on the order's destination, shipping method, and any lockdown/logistics restriction. Thank you for your understanding.
 
GUARANTEES & RETURN POLICY
7 Days DOA Product Guarantee
If one or more of the items you received are damaged, different, or not working, you will be protected by this Guarantee. Please
contact us
for Return Material Authorization within 7 days of the order being received.After returning the product to the address provided by our customer service team, we can send you a new item free of charge (we will reimburse you the return shipping cost), or you can choose to receive a full refund.
30 Days No Reason Return
If you are not satisfied with your purchase and the product is still in brand new condition, we can arrange a partial refund, you will be responsible for paying the return shipping fees.
Please note that ECO-WORTHY will not accept returns with product modifications as it voids our warranty policy. Any modified products received will be returned to you at your expense.
Please be prepared with your invoice or the following information:
Order number
Proof of purchase
Video or photo of the faulty product (if applicable)
Mailing address
Contact telephone number
Please carefully follow our warranty process to minimize any delays:
1. Describe the problem with your item in detail: What happened? When? How? Please also state your full order number and product code (SKU number).
2. Tell us what steps you have already taken to resolve the issue.
3. Provide the item code indicated on the outer packaging.
4. Send a clear photo or video showing the defect(s); these should be taken under good lighting.