Description
ECO-WORTHY Adjustable Multi-Piece Solar Panel Mounting Brackets has the capability to fit 1-4 pieces of different size ECO-WORTHY panels or other brands standard panels. It's ideal for larger installations, such as ground, flat roof, cabins and backyard sheds. Anywhere roof mounting is not a possibility, this solar panel mount can be applied. Galvanized Steel construction, sturdy and durable. Three-legged structure make mounting steady. You can put battery, controller, inverter at backside of the mounting system. It can save lots of room and use solar power system easier. Adjustable angle from 18° to 30° degree, right angle for best solar power. Fixed on ground resistant wind and rain, well protect solar panel and easy to clean. The Multi-Panel Mount is compatible with the ECO-WORTHY 100W monocrystalline, 120W monocrystalline and 195W solar panels.
Package Includes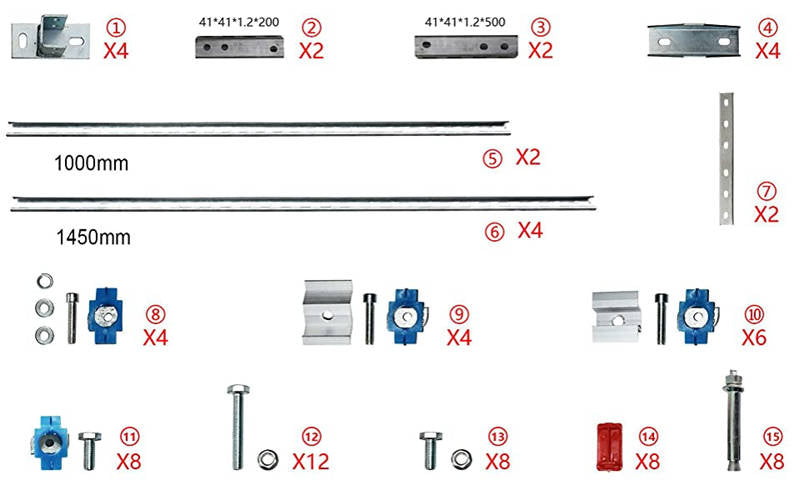 7.84 inches C T-type Steel*2, 19.68 inches C T-type Steel*2, 39.37 inches C T-type Steel*2, 12.79 inches C T-type Steel*2
57.08 inches C T-type Steel*4, Connecting Bolt*4, Edge Pressure*4, Base*4, Universal Joint*4
Middle Pressure*6, Inscribed Bolt*8, Short Bolts*8, End Cap*8, Expansion Screw*8, Long Bolts*12
Installation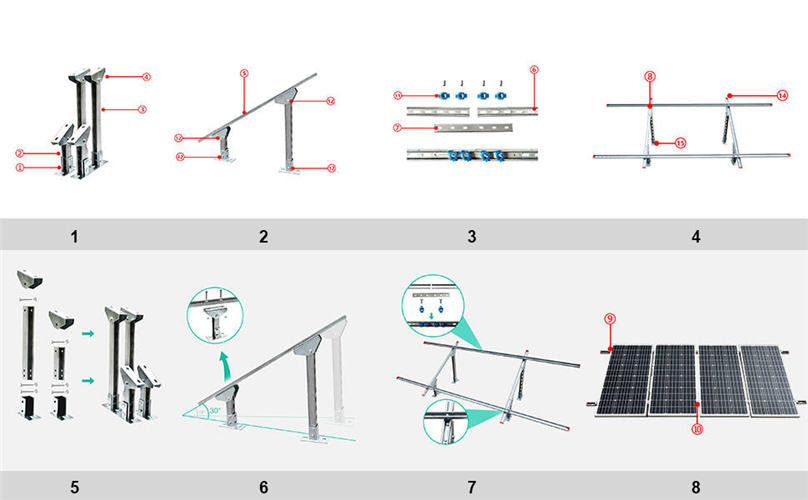 1. Please use the accessories 1 2 3 4 and 12 to be the fix part of the bracket.
2. Please use the fixed part in Figure 1 and then add 5 and 13 accessories to form a tripod.
3. Please connect 6 7 and 11 parts to form 2900 C T-type Steel as figure C shows.
4. Please use the tripod in Figure 2, the 2900 C T-type Steel in Figure 3 and 8 accessories to build a frame as Figure 4 shows. Please use the 15 accessories to fix the frame to horizontal ground. Install the 14 accessories on the frame as Figure 4 shows.
5. Three-legged structure make mounting steady.
6. Adjustable angle from 18° to 30° Degree,right angle for best solar power.
7. You can put battery, controller, inverter at backside of the mounting system. It can save lots of room and use solar power system easier.
8. Fix the solar panels to the frame in Figure 8 with accessories of 9 and 10 respectively as Figure 8 shows.
Suggested Products
Shipping & Return Policies
We hope you have enjoyed your online shopping experience with ECO-WORTHY. Please read below for more information about our shipping and return policies.
SHIPPING
We offer a free shipping service for most of mainland U.S.
You will receive a confirmation e-mail after placing an order and another e-mail after your order has been shipped. The second one will contain the tracking information and some instructions on how to track your parcel.
ORDER PROCESSING
Procession time can take between 1-3 business days.
The time it takes to prepare your item(s) to ship from our warehouse. This includes preparing your items, performing quality checks, and packing for shipment.
SHIPPING TIME
All items sold at ECO-WORTHY are guaranteed to be delivered in 30 days. 
If you have not received your item(s) beyond this time, you are eligible for a full refund after we have conducted a postal investigation.
| | | | |
| --- | --- | --- | --- |
| Shipping from | Shipping to | Shipping time | tracking information |
| U.S. warehourse | USA | 3-5 business days | tracked |

Freight: Larger Panels Kits must be shipped by freight, the shipping time is 5-14 business days.
Note: The shipping times mentioned above refer to the estimated times of business days that the shipment will take after an order has been shipped. Business days do not include Saturday/Sunday and any public holidays. These estimates are based on normal circumstances and are not a guarantee of delivery times. We are not responsible for the failures or delays in delivery resulting from any force majeure event, such as natural disaster, bad weather, war, and any other event beyond our direct control, such as public holidays and customs issues.
Full refunds are not available under the following circumstances:
1. Delays caused by the buyer providing incorrect or incomplete delivery information;
2. Delays in delivery caused by any force majeure incidents, such as natural disasters, bad weather, and war;
3. Any un-insured order that is lost or stolen;
4. Delays in delivery caused by any other beyond ECO-WORHTY's control, such as public holidays and Customs issues.
HI, AK, PR & US Territories:
Free shipping is not available for customers in Hawaii (HI), Alaska (AK), Puerto Rico (PR) or any US Territory. Please contact us for a shipping quote on your order.
 
GUARANTEES & RETURN POLICY
14 Days DOA Product Guarantee
If one or more of the items you received are damaged, different, or not working, you will be protected by this Guarantee. Please
contact us
for Return Material Authorization within 14 days of the order being received. In the event of a replacement, ECO-WORTHY will arrange for return shipment of the defective unit, and once the part has been received and inspected, we will ship out the replacement part within 3 working days. To qualify under our Defective on Arrival policy, goods must be returned in their original packaging. Goods returned without original packaging will not be accepted.
30 Days No Reason Return
Standard in stock merchandise purchased through ECO-WORTHY may be returned within 30 days of the receipt of the product. You will receive a refund or credit towards your account, provided the merchandise is returned in the original packaging in new and resalable condition with the original blank warranty cards, manuals, and all accessories. ECO-WORTHY will pay the shipping costs of the returned item(s) for the following reasons: carrier damage, defective product, product inconsistent with advertisements, incorrect product received, or for any extra products you did not order. For all other reasons, customers are responsible for the return shipping fees. ECO-WORTHY requires at minimum 1-2 working days to inspect a returned item prior to issuing a refund or credit. 
Please note that ECO-WORTHY will not accept returns with product modifications as it voids our warranty policy. Any modified products received will be returned to you at your expense.
Please be prepared with your invoice or the following information:
Order number
Proof of purchase
Video or photo of the faulty product (if applicable)
Mailing address
Contact telephone number
Please carefully follow our warranty process to minimize any delays:
1. Describe the problem with your item in detail: What happened? When? How? Please also state your full order number and product code (SKU number).
2. Tell us what steps you have already taken to resolve the issue.
3. Provide the item code indicated on the outer packaging.
4. Send a clear photo or video showing the defect(s); these should be taken under good lighting.
Great mounting system, Only for smaller/Thinner pannels
We recently purchased these mounting systems but unfortunately it did NOT fit our solar panels.
Our panels are (285w) 80 tall x 40 wide, and 2.5" thick. The brackets did not fit the thickness of our solar panels. so we could not secure them. Along with that, we ordered 2 kits and in one of the kits part number 2 had holes drilled unevenly so we could not fit the bolt through.
this mounting system would be better for smaller panels for sure. We had about 2' of overhang on our panels which is too much for the wind we get.
Great product.
I was considering building my own solar panel rack- BUT, this rack is incredible. I couldn't even come close to getting all the parts and accessories at the price Eco-Worthy sells this for. I'm going to order another!!!
Ground Mount Kit
First kit was straight-forward to assemble and all parts were intact (to be fair, I purchased from Amazon). Second kit was missing a number of bolts and nuts; the package was beaten to heck (again from Amazon, so not a slight on Eco-worthy), which is why they probably slipped out somewhere. Really good otherwise. Hold the panels well. Only tricky part we found was installing the bolt/spacer between the middle two panels -- where the join is bolted together, that hole is tricky to insert the supplied size bolt; fix was removing the blue plastic grip. We did it, but it was challenging. Sturdy once assembled and with all panels installed. We added some bracing for the ground legs so that we could play with positioning. For the price, very happy! Will be ordering again with next panel purchase (this time direct from Eco-worthy).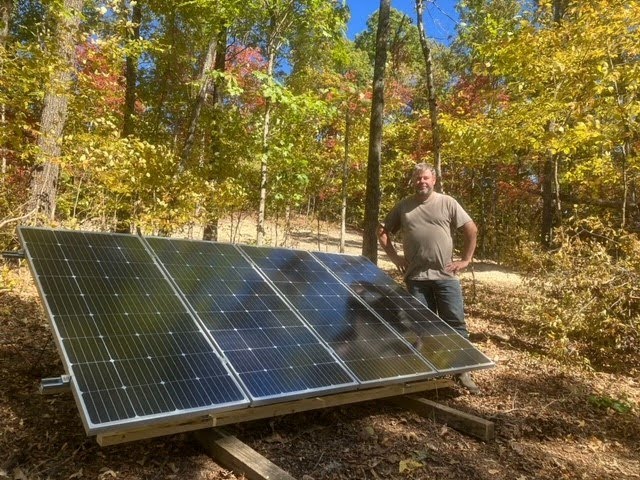 The package had many alternative bolt systems for attaching the panels, but was missing 4 short bolts and nuts to reinforce the vertical supports.
Great equipment
The rack is very sturdy and I am going to make good use of them.
Payment & Security
Your payment information is processed securely. We do not store credit card details nor have access to your credit card information.