What is a solar power generator?
Solar generator is a device—usually working alongside solar panels. You can use portable solar products like solar generators as a backup power source if the grid goes down, or as a source of electricity on an RV or boating trip. Solar generator is a great way to have extra energy on hand.
Are there different kinds of solar power generator?
Of course! There are two types of solar generators are available for home use: solar backup generators and portable solar generators. Both generators provide solar power but differ in terms of wattage capacity, energy storage, and cost.
ECO-WORTHY 750Wh Portable Power Generator Built in LiFePO4 Battery with DC-12V AC-220V Charge by Solar Panel/Wall Outlet for Power Station Emergency Backup Power is the protagonist of this article.
Here are some images of it to help you better understand it.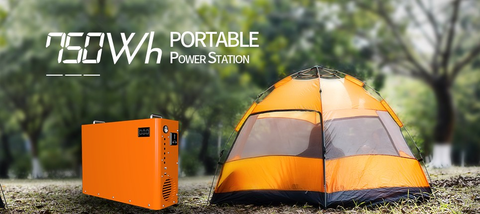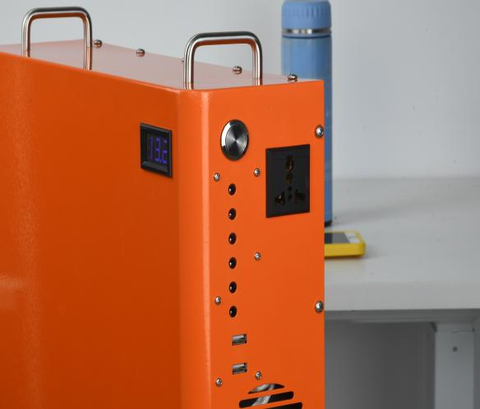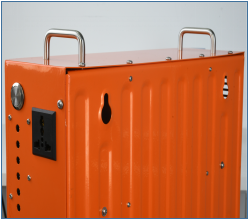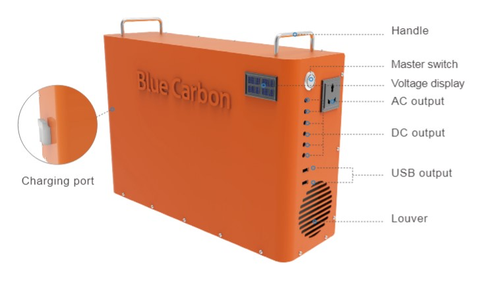 What is your impression of it? As you can see, the generator is in light color, small and easy to carry out. At first sight this kit with it's garish orange case and retro style looks slightly odd compared with others. But under the hood this device has capabilities that don't appear to be available elsewhere.
Here is a copy of the comment:  "This device which is termed a 'Powercan' has a number of key features that mark it out from competitors. This is the sixth battery of this type, offering three pin power at 150W or more, that I have purchased. It is very different, and far more capable, that the others.
The key difference is the cost per kilowatt hour generated. The combination of the LifePo4 batteries and large capacity indicate a cost excluding panels of between 10p and 30p per kilowatt hour, depending on how the calculations are done. At the lower end this is comparable with UK grid costs opening up many opportunities for its use. It also means that in heavy usage off grid environments it the costs are not onorous. It is not unusual to see costs of £1 per kWh from solar generators which is expensive in the long run.
An additional feature which is superior on the Powercan is the meter. This has far more gradations that the typical four bars that are seen elsewhere. Additionally the numbers seem to relate to the actual power directly and be reliable which is of great importance in practice."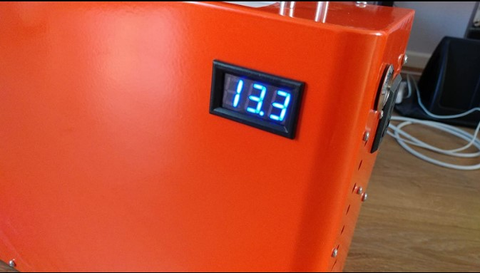 there two ways to charge the power generator:
 1 .Charge by solar panel:
1)Open Circuit Voltage(OCV):16-30V/Max.10A, Max.360W
2)MC4 Connector( included)
make sure the total OCV(open circuit voltage) is no more than 12V if you connect several solar panel in series!!!!!
Recharge Power Station via AC Wall Outlet
Just use the adapter of the unit to plug into your home outlet
Here is the specs of the power generator:
USB output: Two circuits output 5V/2A
DC output: Six circuits DC output 12V
Battery type: LiFePO4
Product size: 408×309×126mm
Weight: 28.67lbs(13kg)
Here is the user manual of it:
1.Turn On: 1. Press the master switch, then Power Can will start work. When not use, please turn off the master switch, to avoid long time power consumption, result in adding other DC equipment poor lighting effect.2. Power Can can be charged by solar panel, and also could be charged by AC when adding 12V adaptor.

2.Lighting: External light source: Power Can is equipped with high efficiency LED flood lights, which can be used according to your needs.

3.Connect:DC output: Power Can is equipped with 5 DC output interfaces, applied for any 12V DC equipment (Better use recommended 12V DC equipment).AC output: Power can provide AC output socket, could be directly connect with applicances less than 300w.USB output: Power Can is equipped with 2 USB output ports, which can be directly charged for mobile phones, tablets and products.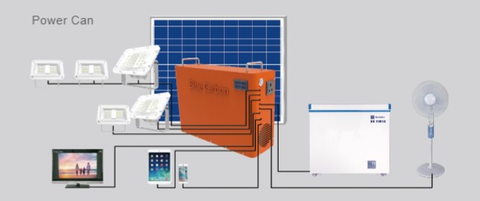 Here are some problems you may meet:
Why does the unit keep beeping?
It may be because that the battery inside it out of power, please fully charge it and try again
Why it cannot be charged?
It may be because of Poor internal contact in the white Anderson plug. Please refix and reset
What is the meaning of number on the display?
It's the voltage of battery inside. When the discharge voltage is 12.6V-12.2V, it will consume 70%-75% of the battery power. When fully charged, the display voltage is 14.1V. After disconnection, the voltage will become 13.8V. This is not self-consumption, it is a normal phenomenon.
Need I disconnect it when it's fully charged?
No, you don't need to because there is a controller and inverter inside that can prevent it from overcharging.
If I connect a 120w light to the AC plug, how many hours can it run?
If the battery is full of power, it can run about 6 hours. By the way, the highest wattage you can conect to the AC port should not be over 650w.
Attention details:
Please don't use the Power Can at the shower room or other humid area, it is prohibited to put it outside for long time, and keep it away from rain to avoid getting wet
Please keep the Power Can away from fire.
It is prohibited to put the Power Can under danger (too high or much sundries)
We do not suggest adding any inverter to add the AC equipments.
It is prohibited to disaseemble or repair by none professional persons.